Carr Rambler
Audio Instrument Reviews:

A note about our reviews. Many of our "house" reviews are very simple in nature, they offer images, spec lists, and either video or audio clips for you to enjoy. Our sincere hope is that you take a good look through the catalog of reviews, compare sounds and features and then make a really informed decision about musical instruments. On many we do offer some comments about the gear, but it is our opinion/ recommendations etc. We are not nieve enough to believe that one guitar or amp, heck any instrument is the perfect one for every player of that instrument. So one professional to another - check them all out, enjoy them for what they are, send us feedback and learn as much as you possibly can about your instrument. Use these reviews to make a good purchase decision, even if it means a purchase from someone else or a used piece of gear. We will be here a LONG time and are very pleased you have decided to use this free resource, someday we would love to have you as a customer of Indoor Storm. If you think this is a great service before the sale, you should try us out for during and after!


Guitar:

Briggs Avatar, Color:"Ultra Blue", Electric Semi-Hollow Body, Weight 8.2 Lbs, Year: 2002, Quilted Maple Top, Mahogany Back and Sides, Cocobolo Fingerboard, Wilkinson Bridge, Seymour Duncan Trimbucker and Two Virtual Vintage Pick-ups, 25" Scale Length, Grover Locking Keys, Comes With Hardshell Case, Retail Price $2995.00, Our Item # GJB001.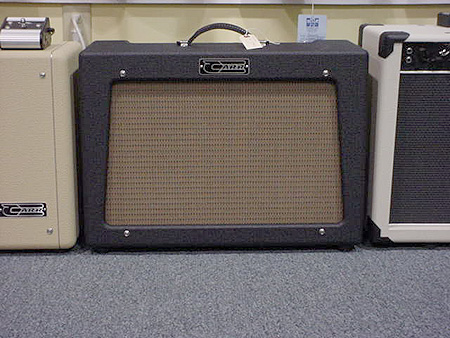 Amp:

Carr Rambler, Color:"Black", Tube Amplifier,2x12 Kingpin 60 Speakers, Class A Cathode Bias 6L6 Output Stage, Zero Feedback, Single Channel With Reverb and Tremolo, Pentode-Triode Power Switch, 28 Watts Pentode, 14 Watts Triode, Retail Price $2395.00, Our Item # ACR009.
Play an MP3 of this guitar thru a Carr Rambler

Article Statistics:
Date Added: 02/02/2005
Viewed:18046
Current Comments: 0