Here is an audio review of an New Orleans VooDoo Custom Through the Carr Rambler!
Here is an image of the guitar: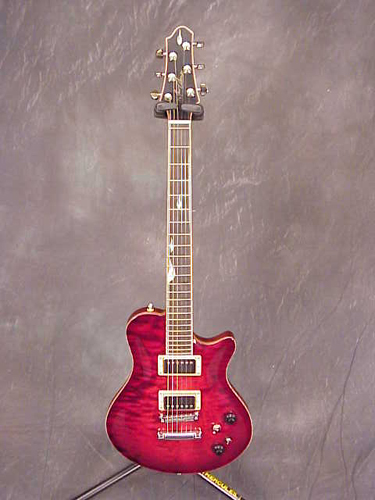 Here are the specs of the guitar:
New Orleans Guitars, Voodoo Custom, Color "Plum", 3A Maple Quilted Top, Maple Top, 4A Hoduran Mahogany Back, Neck Thru the body, Ebony Fingerboard, 25" Scale Length, PAF Neck Pickup, Air Zone Bridge Pickup, Maple Biniding on Fingerboard, These guitars were designed from a players' perspective. This becomes very evident when you play one. From the ultra comfortable carved back and heel , to the zero fret and pass through nut for improved intonation and string feel, these guitars are a joy to play. They are beautiful, but above all else, they were designed to be a players guitar. Item # GNOG09

Play an MP3 of this Guitar thru a Carr Rambler!!

Article Statistics:
Date Added: 10/06/2005
Viewed:22969
Current Comments: 0