We wanted to share with you a few brief seconds of Zen. This video clip is of Eddie playing a used Tyler Guitar through the new Carr Hammerhead Combo Amplifier. You may be the judge of the out come, but we were happy to stop after just a few seconds and we were totally hooked by this new amp...
Here is an image of the amp: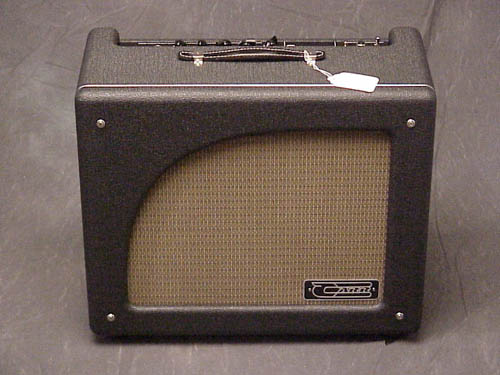 The spec's of the amp are:
Carr Hammerhead, MKII Combo, Color "Black",
28 watt EL-34 Hand Wired Class A combo. The Hammerhead MK II offers rich output tube overdrive with a unique personality and super simple signal path. Rock, hot blues, and pop guitarists will find wide range of tones from semi-clean to full on overdrive with just the right amount of vintage funk. The MK II offers a new single knob tone circuit with On/Off switch. Fully redesigned power supply vastly improving openness and 'Feel' while increasing sustain and clarity.
Class A
Zero Feedback
EL-34 Powered
28 Watts Single channel
Unique tone section with ultra-pure signal path
Controls:
Volume - Impact - Master - Grip - Tone
Item # ACR022
And here is the video clip:


Article Statistics:
Date Added: 10/12/2005
Viewed:47240
Current Comments: 0