Tom Anderson Atom Audio Review:
When a new model of guitar comes out, having the most data you can have on it is very important. We watned to offer as a resource these audio files so you can get educated on the most modern pieces in today's guitar market. We played this Atom through the Carr Hammerhead MK II for you to evaluate the this great new guitar.

Here is an image of this guitar: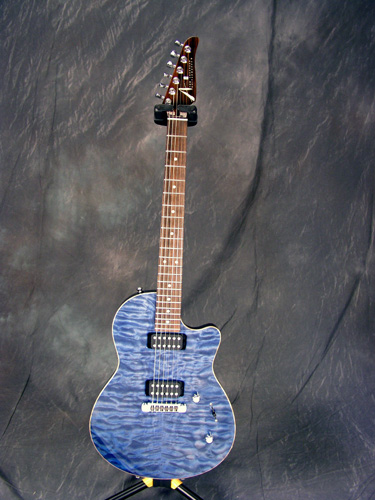 Here are the spec's:
Anderson Atom, Color:"Jack's Blue" with binding,
Model - Hollow Atom
Body Finish - Jack's Blue with Binding
Body Wood - Quilted Maple Top on Mahogany
Neck Wood - Rosewood, Rosewood Fretboard
Neck Finish - Gloss Headstock, Satin Back
Nutwidth - 1 11/16 in
Frets - Heavy
Back Shape - TA Standard
Hardware - Chrome
Bridge - Wrap Around Bridge
Pickguard - None
Pickups - HO1-A HO2A
Switching - 5 Way, Pull on Tone Knob splits middle position
Strings - .010-.046 Elixir strings
our item #GTA078.
To hear an MP3 of this gutiar thru a Carr Hammerhead MKII click below!

---
Article Statistics:
Date Added: 10/10/2005
Viewed:19834
Current Comments: 0